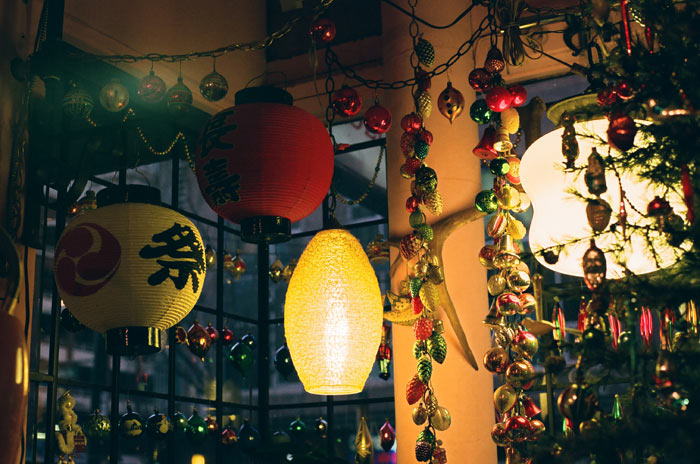 Abernethie hated the lanterns. They weren't Christmassy at all. Lola had picked them out in a market on Pender Street, and their mother Janet had bought them, just like that. It didn't matter when Abernethie explained that they didn't match the ornaments, or that they weren't made for Christmas. Janet had said that was fine, and that Lola was allowed to pick them anyway. Lola was only three. She didn't know any better.
It was their first Christmas in the new apartment, and Janet had gone all out trying to make it special. The walls were strung with garlands, and fresh greenery lined every surface, candles nestled in the branches. The landlord did not allow Christmas trees, so they had hung their ornaments on the bars over the ground floor windows instead. Abernethie had almost cried when she found out that they weren't allowed to have a Christmas tree. But Lola was too little to remember the tree last year, and so she cheerfully hung the ornaments up on the bars.
It had been an exceptionally cold winter. Walking to the bus in the morning, Abernethie had to button her coat right up to her chin and pull her toque down nearly over her eyes. The homeless people on the bus stayed there as long as they could, huddled under blankets in the back row to keep warm. At school, her classmates giggled whenever she said her name. No one had done that at her old school. She hated Janet for giving her a stupid made up name.
Last week she had finally been invited to a birthday party — for Genevieve, a tall blonde girl in her class. Genevieve lived in a beautifully restored heritage home in Strathcona. They had a large, real Christmas tree strung with tiny white lights and pretty ornaments. The cake had come from a local bakery, and was covered in tiny marzipan animals that were too impressive to eat. All the girls at the party had wanted to talk about was the games they had on their iPads. Abernethie left feeling quite miserable.
And then, just when she thought things couldn't get any worse, the heat in the apartment broke down on Christmas Eve. A technician was coming, the landlord assured them, but he wasn't sure when he would be able to make it — the next day at the earliest.
Janet tried to make a game of it. How many layers could they wear at once? The answer turned out to be nine. The family huddled together in the same bed, like they had when Abernethie was small. During the night, she woke up to find a warm dent in the space where Janet had been sleeping. But she was too sleepy to worry about this much, and when she awoke in the morning, her mother was tucked back in where she was supposed to be.
Abernethie crept into the living room in the pale dawn, stumbling over her layers of socks. All of the branches had been collected from their various shelves and wound together with twine. The result was an unusual but surprisingly convincing Christmas tree. A single string of lights glittered around it, and its Frankenstein branches were hung thickly with ornaments. A ring of presents circled the base. Abernethie snuggled up next to the "tree," breathing in its fresh, piney scent. She watched the lights flickering over the ornaments, and the tiny snowflakes fluttering down outside, and began to sing a Christmas carol softly to herself.